A quarter of all defects found on projects inspected during construction by Premier Guarantee in 2022 related to issues with external walls.

Though it is relatively common for issues to appear during all construction developments, our figures show that there are typical areas of concern that feature regularly.

Thankfully, these defects are spotted by our team during the construction process ensuring that the very highest standards are ultimately met. It is never a bad time, however, to be made aware of recurring hurdles so that you can avoid them in the future.

Issues around external walls saw a 9.5% rise from the previous year and amounted to 24.97% of all defects found from January to December of last year.

Note: A defect is defined as: A failure to comply with a Functional Requirement of the Premier Guarantee Technical Manual in respect of the construction of the home


The most common issues relating to external walls were found in:
Traditional masonry cavity walls (60.51%)
Timber frame off-site manufactured (18.33%)
Concrete frames (8.61%)


Roofs also saw a notable jump (5.3%) in reported defects from 2021 with the main culprits being:
Pitched with a pre-formed truss (68.61%)
Flat (14.67%)
Pitched – traditional (13.59%)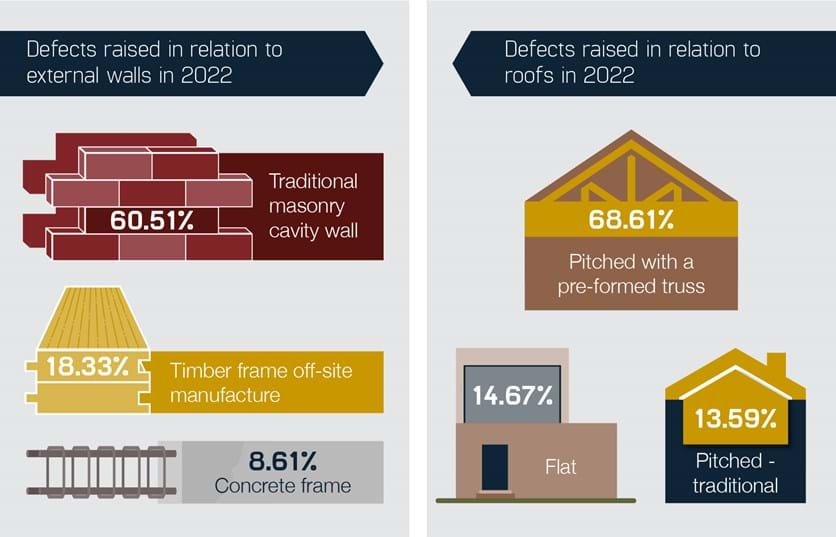 Give your site a health check


Premier Guarantee is one of the UK's leading providers of structural warranties. It also has a growing team of building control approved inspectors who work year round to help builders and developers achieve the very best results.

Our Site Quality Review (SQR) services are designed to assist developers improve workmanship and site practices by analysing 67 inspection areas across 11 inspection sections.

SQRs allow you to have an extra layer of security and peace of mind that the standards on your site are being met and that no unwanted defects rear their head.

You do not have to be a Premier Guarantee customer to take advantage of this service.

If you would like to give your site a health check with an SQR, you can order yours today.


---
Read more articles on InSite and sign up to receive our blog round-up.


Every care was taken to ensure the information in this article was correct at the time of publication (January 2023). Guidance provided does not replace the reader's professional judgement and any construction project should comply with the relevant Building Regulations or applicable technical standards. For the most up to date Premier Guarantee technical guidance please refer to your Risk Management Surveyor and the latest version of the Premier Guarantee Technical Manual.
Ref: MK-3425